What is a Smart Home ?
A smart home is an automated home which is technologically enhanced with the use of devices that are connected to the internet. You can make your new home smart or modify your old home by adding smart devices and technology. Automating your home means you can control the functions of your home with remote devices or through your phone via the mobile apps. This can include the lighting system in your home, the Air Conditioners that control your room temperature, your safety and security systems including your windows, doors, gates etc.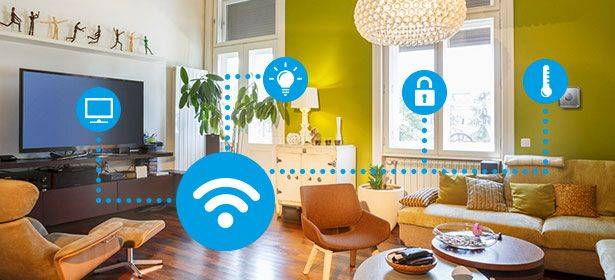 How a Smart Home App makes things easier for you ?
WIth the progress in technology, everything can now be handled with a touch of your finger tips. The smart homes can also be controlled and maintained with the help of an app that is used for automation of homes called as the smart home app. The smart home app provides you access to the control over the various functions of your home. You can switch on or switch off your lights or close your garage gates if you forgot to do so even while you are away from your home. This can in turn also save your time in going back to ensure whether your home is safe, thus taking care of the safety of your homes as well.
Your Home At Your Fingertips !
The smart home app can be used from your mobile, thus making it your mobile app or a tablet or any other device in which the app can be installed and can be accessed with an internet connection.The smart home app can be used to control or use a single system, that is, for a single purpose or it can be used for multi- purposes as well. For example, it can be only for controlling the security system like the security cameras at your home or it can be for several systems like your TV, home appliances like your washing machine, your window blinds and covers or even the sprinkler system of your garden. You can consult an Automation Company and discuss with them on where and which functions you wish to make smart.
Save Your Time with Smart Homes !
If you get an urgent call from your office and have to leave immediately in about 5 mins, with your home being smart, you have nothing to worry about. You can save your time now in switching off all the lights, ACs and the washing machine by using the smart home technology. Also for a handicapped person or an elderly who has difficulty moving around , this could be a blessing !
Smart Home Apps also provide the option of creating a cluster of actions as a single preference in the settings. For example, in this feature, you can create a group action of ' At Office' which will switch off all lights and appliances, close all doors and put all the security systems to alert or it can be the reverse by creating a group action like ' Back At Home' which does the reverse actions of all the above. The smart home features can be customized to your preferences, to make your home comfortable and according to your taste.What are you waiting for? Now get smart and leave your home relaxed because everything is under your control !
---